Archive for June, 2012
Hello Everyone, and welcome to another spectacular installment of Gearheads.org.  This particular article, is going to be about a car that hasn't hit the market just yet.  You can say that its conception was something of a science experiment.  Before I get into any other details, can any of you car enthusiasts out there guess what it is?  Here's a hint, its small size was never meant for the power plant that was put in it.  Still no clue huh?  Well here's one last hint.  Its loud sister had a debut at LeMans this year, but not necessarily on the race track.  Give up?
It's the 2012 Nissan Juke-R.
Still doesn't sound familiar? Well it shouldn't, mainly because this car originally was a want not a demand. What that means basically is the tech guys over at Nissan put their heads together, drank a full cup of courage, and decided to go to work.  What they did was, take a 2012 GTR, pull the motor, wiring harness, brakes, drive-train, steering, exhaust, & some of the interior, and stuff it into a 2012 Juke.
Yes a Nissan Juke! All of that power and technology in a tiny little Juke. I know it sounds crazy!  But that's what they did, and did they ever pull it off.  The Juke-R was built with a purpose in mind. To become the fastest Cross-Over ever made, along with the bragging rights that No One Else will surpass this accomplishment.  The Juke-R project started with a few things.  All of which was mentioned before, and one more thing, persistence. The team stripped the Juke down to its frame and bare metal, and then from that point began to reshape the Juke so that it will accept all of what the GTR had to offer.  
The engine bay was expanded slightly so as to be able to give the Juke a fighting chance on being able to hold onto the GTR's Twin Turbo 480hp V6 motor.
The rest of the frame was massaged so as to accept the new more aggressive drive train that would be shuttlng the rest of the body down the track at over 160mph.  After the motor was squeezed in, the body was dropped down on top of the newly rebuilt frame.  Now the next step was to find a way for wiring harness to do its magic.
The wiring was installed in a very delicate fashion.  This was due to the tight space it needed to go into.
 But the Nissan technicians found a way to fit everything including all of the GTR's patented switches, gauges, steering wheel, and seats.  One again the purpose of creating the fastest cross-over comes into play, and soon the sheer determination of the team brought the Juke-R to life.  Since its scientific birth the Juke-R has been tested over and over again, and has been somewhat scoffed at a few times.  It's has been combed over by renowned drivers, and publicists, and they have said that the Juke-R sits in a class of its own.  Not even BMW, nor Audi has anything to offer as far as competition for this mini cross-over is concerned.  And speaking about competition, the boys of Nissan have already put this Juke-R up against some serious high powered players.  After its completion the Juke-R was shipped over to Dubai for a somewhat high stakes shakedown. A street race of sorts. Nothing really official, but a race for bragging rights and pride were the prize of this showdown. It was rumored the a Dubai native Salah Salahuddin put together a proposition that the newest driver of Nissan's GT Academy, Lucas Ordonez could not resist. The race consisted of four cars. The 2012 Juke-R, a 2011 Lamborghini Murcialago, a Mercedez Benz SLR AMG, and a Ferrari 458 Italia.  All of these Supercars, were pitted against the Juke-R to test the driving prowess of Ordonez, and the drivability of Nissan's newest project. The race was held in the streets of Dubai, by the waterfront were any and all who were interested enough, could watch.  As soon the race started the Juke-R immediately took control of the lead, and was sure to hold onto that lead throughout the entire race. The dust covered course was a mix of asphalt, cobble stones, and concrete, which were no match for the AWD quickness that the Juke-R possessed. The short wheelbase, and torque combination allowed Ordonez to easily take a commanding win over the rest of the drivers in this exhibition race of sorts. After all was completed, the dust settled, and the engine blocks were cooled down the Juke-R continued on its world tour.  Now that the Juke-R has made a name for itself, there is now a demand for the technological pocket rocket. That demand will come at a hefty price. It hurts me to say this, but the Juke-R will go into an extremely limited production, (20-25) for the price of around $600,000 USD. I know it hurt my heart to hear that as well. I mean you need to take into consideration the breaking down of two mass produced vehicles to create one awesome cross-over.  So it will be for those who really, really want it.  I hope the Nissan finds a way to bring down the price to around $250,000 so it can be a lot more palatable. That's just my opinion. 
Share and Enjoy
Categories: Auto Speculation & Rumors, Automotive News, Production Cars Tags: AWD, drive-train, Dubai, GTR, Juke, Juke-R, Nissan, Power, racing, torque
So, why are we here this time around?  We are here to go over something that has played a major part in every tuner's life for quite a few decades now.  We are here to discuss a car. It's only right, being the type of site this is.  Now I'm not going to go over wiring, or electronics, or schematics, or even how-to's.  No, no.  I'm going to express my personal, and sometimes funny opinion about a particular car.  A car that many many men, and few women have been drooling over for quite some time now.  That car is the 2013 GTR.  Yes, the 2013 GTR, or what some people still debate over calling it the R35 Skyline .  
Personally GTR, just sounds kind of final. Really "Kick Ass".  I mean seriously what sounds more manly and harsh?  "I drive an R35 Skyline", or "Yeah my ride is a GTR!"  I would prefer the second option too.  I mean since it has been on the road, more and more tuners, car guys, and drivers have gone through leaps and bounds to make this car into the proverbial "Godzilla".  
Every time you log onto YouTube, you come across more videos of GTR's doing things that have been normally reserved for the Supercar realm.  Take for example, did you know that there are GTR police cars in existence now? Mainly in Japan, but I know that the Florida state troopers wouldn't mind getting their hands on of those custom rides.  Also did you know that there are GTR's out there in the car world that have been tweaked to the horsepower range of 1500+?   Jaws are now officially dropped!  One last kick in the teeth for those guys who spent over 200k on a sleek, and sexy exotic car.  Did you also know that the GTR is one of three cars that has a sub three second zero to sixty time?  The other two players you may ask?
The Bugatti Veyron 16.4@ 2.52 seconds, and the Porsche 911 Carrera@ 2.85 seconds.
Yep, I said the same thing. Shut the Front Door!!!  Less than THREE Seconds……..Word!
Who would've thought that when this 95,000 dollar Japanese sports car was brought to the streets of United States, three years ago it would be welcomed with open arms.
Reluctant open arms, but open arms.  I mean, all jokes aside the GTR was kind of hated, and scoffed at by most of the American Tuners.  The look of it turned off some people, along with all of the electronics that it came with.  A nightmare for most wiring guys.  Body kits were not readily available, wheel combinations weren't working with the fender size, and it was a fairly heavy car.  But now, boy oh boy, has the GTR come a long way.  Besides tuner shops, building 1500hp monsters, the GTR has somewhat become America's new tinker toy.
Car & Driver, Road & Track, even The DuPont Registry have highlighted the greatness that is the GTR.  Every time you turn around there is a new comparison being set up at a race track somewhere, that involves the GTR, and some of its opposition.  Corvettes, Porsches, Ferrari, Lambos, Bugattis, have all been pitted against this mighty machine.  The GTR has won some, and lost some. So is life. I mean you can't win them all.  But who really cares? Right?
Who would think that a slightly tuned $100,000 GTR would be able to keep up with, and sometimes best a 2.4 million dollar Bugatti? A Japanese Twin Turbo V6, with the capability to give a Volkswagen powered W16 a run for its money  is hardly anything to laugh at. 
 But I digress people. The GTR is a silent killer among the   driving elite of the world. As I mentioned before there are tuning groups who have found ways to massage, stroke, and basically beat tons of power out of this V6 power plant.  The hard work of so many tuners even inspired Nissan to squeeze all of the technology, and power of the GTR's V6 into a smaller package. That my friends is the Juke-R. It sounds stupid, but it has come to fruition. The 2013 Juke-R will go into a limited production, and be sold for a rumored 90k. It just goes to show, that too much of a good thing isn't bad at all. 
Share and Enjoy
Looking to hit some dirt, mud, and gravel this weekend? As long as you have a four wheel drive truck or SUV, you can come along for the ride! However, we must remember that just because a truck is 4×4 doesn't mean that it will handle off-road driving well. Some are better than others, and I'm going to go review them based on my personal experience driving them.
#5 Off-Road Truck/SUV : Toyota FJ Cruiser
The classic FJ will always be one of the best for off-roads. It has a relatively weak engine, but it does an amazing job still. It was built using a combination of the Jeep steering and the Hummer design, Toyota did not disappoint in its ability to handle just about any type of terrain. The main problem I had taking the FJ out to the lake was its tough view. Its shape doesn't allow you to get a full grasp of what's in front or behind you. If you're not really careful, you could do some serious damage. Equipped with standard traction control, the FJ is a great buy for Toyota lovers who want something unique.
#4 Off-Road Truck/SUV : Land Rover Defender
My biggest problem with the defender was always its looks. Its off-road capabilities have always been tremendous, especially considering its modest cost. The defender boasts a powerful 6 speed transmission with a standard V8 engine. It gets above average gas mileage for such a big SUV as well. When I took it off road in Southern Georgia, I was genuinely impressed with its suspensions. It was a really smooth drive through some rough, rocky terrain. I even got it stuck once and was able to use the force from the engine to spin its way out, though I might be a little afraid if I were to be in a serious mudding hole. Any truck can get stuck. It takes power to work your way out of it. Face it, you can buy one today right out of the lot for under $30,000.
#3 Off-Road Truck/SUV : Hummer H3
This is the whole concept behind the Hummer H3. It has the capability to go to any terrain, and its 300 HP engine is one of the top in the industry. It's not going to be the most environmentally friendly car, but it does everything you ask it to and more. I'm sure it's happened, but I've never seen an H3 get stuck before. I got stuck in a ditch once and had the H3 at a near 180 degree angle (I thought I was about to flip!) and it drove as smooth as it would on the pavement. It just powered its way up like it was nothing. Hummer is also constantly improving their gas mileage for the strong 6.2L engine that it currently uses. Available in both automatic and manual transmission, Hummer has always been at the top of any off-road list.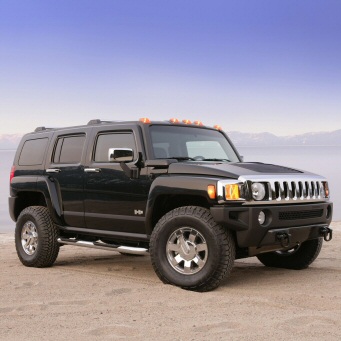 #2 Off-Road Truck/SUV : Ford F150 Raptor
The Raptor! Oh, how much I love it. I've only been able to drive it once, and it was amazing. The SVT Raptor is a truly state of the art off-road monster. I've seen videos where it was driving in an ultra steep ditch the size of a meteor strike and inside it felt like you were cruising down the interstate. Its rail guards ensure that it will receive minimal to nobody damage at all regardless of where you take it. The 2012 version is equipped with a front camera, designed specifically for off road conditions, as well as new anti slip additions that make this model of the F150 truly special. This is Ford's masterpiece.
#1 Off-Road Truck/SUV : Jeep Wrangler
At the end of the day, there can only be one number one. The Jeep Wrangler basically invented off road trucks. I've taken the six speed out for a drive and its magnificent. It's available in two and four door models, allowing you to use it exactly what you need it for. It has 285HP, which isn't the highest you will find in a 4×4, but it has the classic Jeep durability that has kept it the number one selling SUV brand in the nation. For the V6 engine that they put in it, the Wrangler walks a fine rope between Power, Durability, Looks, and Off-Road Capabilities. As a strong lover of 4×4's, there was no way I could rank any other vehicle higher than the Jeep Wrangler.
Share and Enjoy
Cadillac's goal is to never disappoint. They couldn't have made that point any clearer with the new Cadillac Escalade EXT. Its enormous 6.2L V8 engine pushing over 400 horsepower makes it the ultimate combination of power and luxury. While it's not much different compared to the 2012 version, the EXT manages to excite every truck lover. It took the regular Cadillac Escalade as well as the Chevy Avalanche, which is also made by GM, and combined it into one spectacular fully loaded vehicle. Unfortunately, Cadillac still has some work to do with this car. There are a couple of key issues that will turn away perspective buyers, especially it's gas mileage.
Pros & Cons of the 2013 Cadillac Escalade EXT
Pros
403 Horse Power @ 5,700 RPM
Cadillac Luxury Package, which includes a rear-view camera, heated seats, and more
Active Fuel Management
8,000 Pounds of Tow
Cons
Not much difference between the last two years of EXT's
Bad gas mileage: 13 City – 18 Highway. Cars in 1992 produced better fuel economy.
Pricey, a new one will run you over $60,000, in its base/stock model
On The Road
          What Cadillac brings to the table when you're actually on the road is what makes the EXT worth it. First of all, it's extremely fast. It hits zero to sixty in 6.2 seconds, not bad for a truck that weigh's over 7,000 pounds. It drives extremely smooth, as you would expect from a new Cadillac. For a 6.2L V8, you wouldn't even know it's turned on when stopped at a red light.
Durability is a key when talking about cars. The EXT is a durable truck. Cadillac offers just about the best warranty and coverage plan of any automobile company. Free road-side emergency, free oil changes, free tune ups, expedited repairs, and more, all of which you get by purchasing a new EXT. Unlike many other manufactures, you can actually count on your Cadillac truck not to break down, regardless of how many miles it gets. I've seen some of these trucks hit over 150,000 miles, and they still drive like they just came out of Detroit.
One Last Time

It's been speculated and reported, though not officially announced, that this will be the last year of existence for the EXT. It looks like Cadillac has decided to focus their efforts on the other Escalade's, as well as the new Cadillac models that they have recently introduced into the market. I was pretty sad when I heard about the news, as it's been one of my favorite trucks since its inception. The EXT sales have been going down tremendously over the last few years. While every car manufacturer took a hit during the recession, the EXT was hit especially hard, with it selling only 2,000 trucks this past year. This represents an 85% decrease in sales since 2002, while the regular Escalade has only seen a drop of about 55% in the same period of time.
I heard once that the EXT was the most stolen car in America. I guess that means nobody wants to purchase it.
Share and Enjoy
Today, there was an incident on the street I live on that really pisses me off. A neighbor from down the street somehow managed to plow his 1990something full-size pickup into a RED compact SUV parked in the street. Now correct me if I am wrong, but A. you have better visibility sitting up higher in a truck, B. red is a color that is hard to miss, and C., it was 9am on a nice, sunny Cleveland day so there was no reason not to see a parked car. Apparently, I must be wrong, because Mr. Old Fart sent that poor SUV forward into a driveway about 15 feet. Seeing that the speed limit on my street is 25mph, it does not take a mathematician to figure out he was speeding.
Now, if that was not bad enough, Mr. Old Fart gets out of the truck to see what he had done, and low and behold, he has an air cast on his right leg. Now for those of you that are familiar with these, they are a big bulky cast type medical device that you blow up with air and Velcro to your leg if you have an injury. It is about the same size as a regular cast, and allows about the same amount of movement, NONE. Then, as he started walking, I noticed he has a little bit of a wobble. Well I come to find out he just got regular license plates back after having the pretty yellow and red DUI plates that Ohio gives to those who get caught drunk driving. They are affectionately called "party plates", which I think they should be allowed to be personalized, you know like "DUIXTEN", or "JUST1MORE", so at least people can hurry up and get the hell out of the way of your dumb ass.
I am sure you are shaking your head by now at the sheer neglect of the Ohio Department of Motor Vehicles to keep Mr. Old Fart on a jazzy scooter where he belongs. How about he has a homemade steel bar attached to the front of his front bumper, with spikes on it. Last I checked Mad Max took place in Australia so WHAT THE HELL?
As I do live in suburbia, this little incident brought out most of the neighbors to discuss the sheer ignorance of Mr. Old Fart, who retreated to inside of his truck; for fear that we were organizing a lynch mob of some type. The officer that arrived to take the report was very polite, and looked quite annoyed with Mr. Old Fart, like the rest of us. This is not the end of the story yet, there is more unbelievably.
Mr. Old Fart, while enjoying the comfort and cleanliness of the back of the police car giving his side of the story, informed the polite but annoyed officer that his truck was out of gas. By this time, I am questioning how Mr. Old Fart even finds his way out of bed in the morning, especially after he had the balls to ask the police officer to take him to go get some gas. Would you like the police officer to pay for it too, jackass? The officer dropped Mr. Old Fart off at his house, and not five minutes later, he starts staggering back down to his truck, gas can in hand, to put gas in his truck.
As soon as Mr. Old Fart was done, the few of us that were still outside talking scattered like cockroaches when the lights come on in fear of being plowed over like squirrels by Mr. Old Fart with the Mad Max bumper. Luckily, he made it off the street without any more incidents.
If this is not a clear sign that senior citizens should not drive, I do not know what is.  After the age of 60, unless you can prove you can drive like Mario Andretti, people should have their driver's licenses revoked and be issued a Jazzy scooter, and make sure they have insurance on it. He is just one of the fine senior citizens in my neighborhood who think that driving is just a big game of bumper cars.
Now to what really pisses me off. I, per a physician's request, AM NOT ALLOWED TO DRIVE, because I have back problems that are causing neuropathy. This means because I have a bad back, I cannot drive, and if I do drive and get in an accident, I could lose my license indefinitely for driving against a physician's orders. Yet, Mr. Old Fart, aka Otis the town drunk, can drive a full-size pickup, with an air cast, a crutch and steel spikes on his bumper. I have three letters for the whole situation W T F!
Share and Enjoy
Who Knew?
There is a group of gentlemen who love Corvettes, so much so that they have pushed the envelope of design. Hell, they ripped it completely apart. They have taken a bone stock C6 and tweaked it, modified it, stripped it all down, and then started all over again. There is a man, named Jason Hunkler who decided to open a tuner shop in West Palm Beach Florida, dedicated to all things Corvette. His mantra that represents his work is, Perfection……Refined, and the name of the company is called Supervettes.
Shut the Front Door!!
Jason took his ideas, & love for designs, body kits, and learned how to reshape your standard C6. He didn't just simply come up with making a side-skirt, and a wing for the C6. No, he created an extremely evil looking street machine. This beast of burden, and awesomeness is currently called the ZR6X.
Your standard C6 is about 72 inches wide, whereas the ZR6X is lingering around 76 inches wide. Rolling stock for a C6 are a set of 18 x 8.5in wheels in the front, and 19 x 10in wheels in the rear. The ZR6X has a set of 19 x 10.5in wheels in the front, and a massive 20 x 12in wide rollers in the rear, and all tucked up under that wide sexy ass that the C6 Corvette has been conveniently known for. The designing didn't stop there, a wide body kit was created so as this Corvette would draw the most attention humanly possible. All the while what lies under the hood, is what most people in their foreign cars fear.
Under the hood of this monster is your standard LS Series motor, but with Frankenstein like qualities. The V8 engine in this car has been stroked, massaged, blue printed, reassembled, and then
dyno tested. Their ZR6X is currently driving around the streets of West Palm Fl., pushing a scary 620hp. So what that roughly means is, the total hp achieved peaked out at around 750hp.
This street fighter of sorts prowls around looking for a challenge from anything, and or anyone. I can only imagine that there are only two types of street races this car comes across. The cowards that don't even bother, or the racers that frequently find out what his tail lights look like at 165mph. Now you may think that this shop just slaps on a kit, and the puts in a super-charger, and calls it day right? Wrong! The power trip doesn't stop there, they continued onto the exhaust, where the heads that turned to see what was coming, now remain turned to follow and see where it's going. The exhaust from what I have found out can be tuned to what the owner wants to hear. So if you want a harsh, raspy, angry sounding exhaust, that scares the old ladies crossing the street, while you wait at the red light, all you need to do is ask.
So in closing, Jason and his team at Supervettes have seemed to capture the awesomeness that is rightfully due to the Corvette. His dreams of building a tuner shop so different, so amazingly fabulous, that no other tuner shop , could even come remotely close to his greatness, has achieved goals beyond measure.
So if you're in Florida, and want your Corvette to become the monster that it was inherently supposed to be, look him up, and bring somebody's nightmare to life.
Share and Enjoy
If you are a thoughtful spender and want to make the most of your money, you may consider buying used cars to save money. However, this is not the most advisable solution today. In fact, buying a new car is considered to be a more economically viable solution today. This article offers a discussion on why experts are suggesting people to choose new cars instead of a used car to save money.
Better incentives on new car – Currently, the market for used cars is up by about 23% while new cars sales are low by 34%. Hence, going by the law of demand and supply, prices for used cars are up while the dealers are forced to offer more sops and incentives for the new car buyers.
Better finance on new car – Credit terms are lot easier than these were about year or two ago. If you are a smart consumer you can compare finance terms offered by different banks and credit unions and negotiate a favorable deal.
New cars are more fuel efficient – Technology advances by the day, but these days, carmakers are working harder to offer consumers more fuel-efficient cars to help them sail through the tough economic times. Many car brands are coming up with hybrid and clean-diesel makes of their car as these are more economic on fuel and help people save money. Besides, carmakers are now coming up with six gears unlike 3-4 gears of yester years which further boost fuel efficiency. Given the steep price of fuel today, it makes sense to buy a new fuel efficient car rather than fuel-gulping used car.
New cars are better performing and longer lasting – New cars are also designed to be more powerful and longer lasting thereby making them more economic as compared to purchasing used cars.
Old cars may require greater maintenance cost – One of the greatest downside of buying used cars is that its best years has already gone by when you purchase them. Older cars may therefore require expenditure on maintenance. Besides, it will be a hassle if your car stops down when you are on your way for an urgent meeting.
It's tough to choose a good used car – Buying a well-maintained used car is not everyone's cup of tea. There are many scrupulous dealers out there on the market waiting to pass on a poorly maintained car at a steep price. You really need to be smart to pick a reasonably priced, well maintained car. Hence, if you are not smart enough your used car may turn out to be more expensive that you believe.
So, right now, buying new cars make more economic sense than purchasing used cars. However, this scenario may not last long. Once the demand for new car increases, the incentives are bound to go. Besides, these more fuel-economic new cars make come in the used car market in a couple of years; hence it will make more sense to buy used cars.
Besides, if you are buying posh cars such as BMW it still makes financial sense to buy BMW used car as compared to new BMW cars. This is because you have the option to buy Certified Pre-Owned (CPO) BMW cars which come with the manufacturer's certification and additional warranty so you are sure of your investment. Besides, BMW cars are excellent in performance and long-lasting, making it financially viable to buy BMW used car if you don't want to spend money on a new car.
Brett Michael Williams believes today it makes economically more sense to buy a new car rather than a used car. However, if you want to buy a luxurious BMW on a budget, it may still make sense to buy BMW used car as compared to new BMW cars. Learn more about the pros and cons of buying new and used cars at http://www.chapmanbmwoncamelback.com/
Share and Enjoy
Summer brings with it a chance for excursions along with unbridled sunshine. While those things might be a welcome relief for you, they can take quite a toll on your car. Summer is the prime season for breakdowns and car troubles. To avoid breaking down on your way to that beautiful national park, here are five summertime car maintenance projects to keep your car in great shape.
1. Take care of your tires.
Only about one out of every ten drivers checks their tire pressure correctly. That's unfortunate, considering how important tires are to your vehicle. After all, they are the only parts of your car that make direct contact with the road. An over-inflated, under-inflated, misaligned, or worn down tire spells all sorts of dangers, especially in hot summer weather.
Check your tire pressure regularly. Tire pressure changes with the weather, about one to two PSI per 10 degrees Fahrenheit increase in outside temperature. Consult your driver's side door jamb for the correct tire pressure.
An under-inflated tire will bulge outwards. This puts a lot of pressure on your tire's sidewalls, and with enough heat and pressure, that tire will eventually blowout. An over-inflated tire makes less contact with the road, which could lead to slips and hydroplaning. Use an air compressor or visit a service station to fill the tire properly.
Take your car to the local service shop or specialty tire store to check for proper alignment and balance.
Keep a bottle jack or other car lift mechanism around at home to properly check worn tires.
2. Change the oil and oil filter.
Oil is what keeps your engine going, ensuring clean, smooth, and cool operation. Oil change specialists say to change your oil every 3,000 miles. Your owner's manual will tell you every 7,500 miles, maybe even more. Fact is, driving in the heat of summer makes it easier for your engine to overheat. Check your oil before you head out on any big trips. It should look brownish-yellow and clean on the dipstick.
3. Check your brakes.
Your brakes are the primary safety feature on your car. They also tend to suffer a lot of friction, which is only amplified given that summer sun. Brakes should be replaced when the pad or shoe is worn down past the minimum thickness specified by the manufacturer.
The most obvious sign of how your brakes are doing is your brake pedal. If pressing your brake pedal feels any different (too soft, too resistant, too low) then there's probably something wrong with the brakes. Listen for any scraping or grinding sounds coming from the brakes as well.
4. Check your coolant and radiator.
Cars run hot. The optimum temperature for the average combustion engine is around 200 degrees Fahrenheit, but if an engine runs too hot, you're in trouble. The moving metal parts in the engine can actually melt and fuse together, leading to quite a repair bill.
Your car's cooling system prevents that with help from antifreeze, but low coolant levels, a broken fan belt, a cracked hose, or any number of problems can cause your car to overheat and break down. Make sure that all your coolant levels are fine and consider flushing your radiator every couple years.
5. Maintain your air conditioning.
When you're sitting in traffic during the summer, your only solace is the cool breeze flowing through your car's air conditioning. A summer without air conditioning would be unbearable. The most common cause of a bad air conditioning system is a low level of refrigerant.
Air conditioning is a complicated beast. If you think you're A/C isn't working, it's best to have a professional check it out.
Share and Enjoy
Cars are a complicated piece of machinery and lots of things can go wrong. So the car is doing something funny and you have no idea what it might be. This next series will help you with some basic diagnostics.
As you're driving along on a hot summer day suddenly you start to what looks like smoke coming out of the front. Your stomach turns in disgust. Now what? You glance at your dashboard and see that the temperature is way into the red. Your car is overheating.
Basically put, your car is sick with a fever. Here is what you do. Get off the road ASAP and try to find a parking place near a gas station or at least a fast food place (we will get to that in a minute).  If the situation is severe enough, or you're on the highway and don't have an exit ramp nearby then pull over to the side of the road.
Open the hood of your car. Fortunately you realize this is not smoke but just steam and it is coming out of the cap of the radiator. If you look to the left of the radiator there is generally a plastic over flow area. You might see steam coming out of it and there might be boiling water in it as well.
DO NOT take the lid off the radiator cap or overflow. The scalding spray of steam WILL burn you. Don't even try it with a rage or glove. The heat will shoot right through (trust me, I know…) Now you are just going to have to sit and wait for it to cool down some.  I have heard rumors of people spraying water on the engine and radiator to cool it but I have never heard this confirmed by anyone.
After at least 15 minutes (if not longer) turn your car on and check the temperature. If it is not in the red and steam has lessened you can try to open it.  Take a rag and open the overflow area, if you can't find it try the radiator cap (if feels to hot still the wait longer.)  If you are near a gas station or fast food place go get some water and pour it into the overflow or the radiator. It will probably steam up. Do this until the car cools back down. If at a gas station you can buy some coolant to fill it with. If it has cooled back down this will give a little bit of driving time. Not much but if you are close to home you can probably make it, if not then try to make it to a mechanic. Wait until the cooler parts of the day if you can. When driving keep an eye on the temperature, if it gets to high stop and pull over, you might have to do the cooling process again. Try to get to a mechanic or home though.
Jeff Jordan lives, play and frolics in sunny SoCal. He writes about volcanos, cars and wineries. One place to find a very reliable car is Enterprise Car Sales.
Share and Enjoy
Cars seem to develop mechanical or electrical problems at the worst possible times. Just when you're heading out for a long journey or when you're driving to an important meeting.
But most of these problems have early warning signs that can help you spot a potential problem in the making. If you spot these car problems early then you will often be able to get them fixed before they develop into something more severe and dangerous.
(From http://www.flickr.com/photos/dittmars/2552954071/ Available for use with attrition to the author)
Brakes
I think we can all agree that brakes are very important; without them we tend to crash into things.
So with that obvious statement in mind, here are some early warning signs for brakes.
When you hit your brakes, if you notice the car pulls to the left or right then that is a sign of impending brake problems. Seek help!
If you hear a screeching sound when braking then your pads are probably low and you should get them inspected as soon as possible. If you ignore this sound then it will probably change to a grinding type noise which may mean you also need to repair or replace the brake disks as well.
Another sign of trouble is the brakes vibrating.
And the obvious one to look out for is the brake warning light.
Do not ignore any of these brake warning signs!
Tyres
Having healthy tyres is something that every driver should check for regularly. You can read an in depth article about tyre safety for all the things to look out for but the two main things are;
The Tread Depth.
Air Pressure.
At which depth levels you should change your tyre can vary but generally a good recommendation is 2mm.
Again the recommended tyre pressure varies from model to model, so I suggest you look up your car on the Internet or read your vehicle manual for your particular minimum tread depths. You can either pump up the tyre yourself or it can be done at most garages.
Smells
A good way of detecting potential car problems is by using your noise, literally!
If you notice a burning smell then it could be;
Your transmission overheating. This can be caused by many things including low levels of transmission fluids.
Low oil levels.
Oil leaking somewhere.
And if you notice a petrol smell then you may have inadvertently flooded the engine. Usually allowing some time to pass (around 5 minutes) will solve this problem and let you start your car again.
If you smell something like old socks while the air-con or heater is on, assuming you don't actually have any old socks in your car then it could be mildew growing inside the air-con unit. You can try turning off the air-con and run the fan on high setting for a while. This may cure the problem.
AUTHOR BIO
Dan is an online author who greatly enjoys driving and buying cars and recommends Auto Co a car dealer in Auckland as they import hundreds of used vehicles from Japan for lower prices. They also offer various pre-checks on their vehicles to show potential car problems.
You can also follow the Auto Co Facebook page for their latest news and offers.
Share and Enjoy